How do you choose the right location for an event? It is a question that concerns every event planner and an aspect that, in addition to audio, video and light (which we have gone into in more detail), an important influence on the success of an event. The right location depends of course on what type of event you want to organize and on what scale you do, but there are also several factors that you must consider. Read more about this in this article!
What do you want to convey with your event?
Considerations such as geographical location, price, catering and how beautiful the location looks are important. However, much less attention is paid to the following issue: can the location support the communication process? An issue that should be at the top of everyone's list, since conveying the message at every event is crucial. We ensure the perfect appearance of your event and above all that your message is transferred to your guests! On this page we mention points that help you choose the right location to convey your message.
Which location is the most suitable for which event?
Foyer
Cloakroom
Capacity of the location
Available spaces
5.1 Different setups
5.2 Practical areas
Shape and height of the room
Rigging and AV facilities
Preferred suppliers
Power supplies
Access times
Accessibility
Budget
Golden rule: never book a location before you have visited it?
1. Which location is the most suitable for which event?
Whether you are organizing a live event, conference, wedding or business event. Another location is most suitable for each event. So the question which location fits best with the type of event you are going to organize? This is difficult to say is advance. The location tenants usually indicate on their website which event their location is most suitable for. Bases on this information you can make an initial selection in which location is suitable for your event. Of course, you always visit the location before you finally make a choice.
2. Foyer
The foyer is the place where you receive the visitors of your event. Make sure this room connects to your event. For example, the space should have enough capacity for the expected number of visitors and to connect the design of the foyer to the type of event that you organize. Do not go for a luxury or kitsch foyer when you organize a very festive event. Try to empathize with your visitors and try to meet their needs and where possible to exceed them.
Make clear to yourself what the foyer should meet. Which luxurious conveniences should all be present (bar, kitchen, sound, light, etc.)? always check with the landlords of the location. Always be aware that the foyer is the first thing your audience will see. In this space you can build up expectations and lay a foundation for communicating your message. You want your audience to feel directly involved.
3. Cloakroom
Check if the location has a cloakroom and whether it is large enough for the number of visitors. Put people here or let the visitors hang their own coat. If you need to integrate a cloakroom in a planned room yourself, see if this is possible. There is nothing more annoying than having to keep your coat with you all day long.
4. Capacity of the location
Before you start looking for the right location, it is important to make an inventory of the number of visitors for your event. Make sure you have a margin in this so that you do not run the risk of having too small a location for your event. Most event locations have shown in their description how many visitors it is suitable for the number of square meters of the location. Make sure you find the perfect balance between the expected number of visitors and the capacity of the location.
5. Available spaces
You have a location with sufficient capacity for the expected number of visitors. But does it also have various rooms to shape your event? Think of the large congress hall, different rooms for holding workshops of other activities, rooms for networking and lunch rooms.
5.1 Different setups
consider in advance which arrangement you want to put the guests in the room. Do you opt for a theater setup, cabaret setup of schoolyard setup? Consider what best suits your event and map how these spaces should be. Below are several setups with the corresponding space that one person takes possession of. This way you can make a good estimate of how many people you can spend in a room.
The arrangements for meetings and conferences:
Theater set-up: 0.5 m per person
School layout: 1.5 m2 per person
Cabaret setup: 1 m2 per person
Carré setup: 0.5 m2 per person
U-shape: 1 m2 per person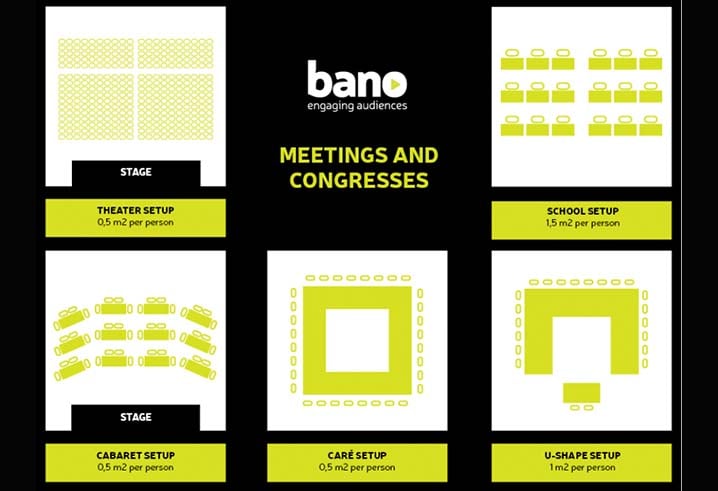 The arrangements for parties:
Reception: 1m2 per person
Banquet setup/seated dinner: 1.5 to 2 m2 per person
Party: 1.5 m2 per person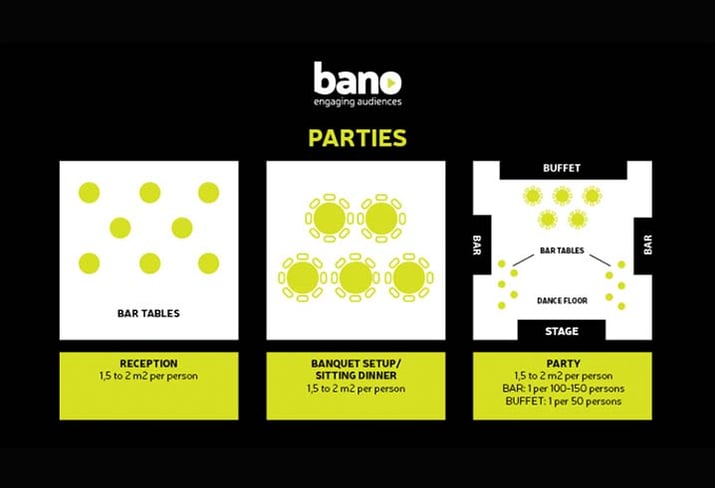 5.2 Practical areas
In addition to the spaces, think of practical matters such as the presence of changing rooms for any speakers/artists present. Are the dressing rooms equipped with mirrors and running water and the like? In addition, sufficient sanitation is also very important. Here, the rule of thumb for 1 toilet can be 50 persons. In case of indoor locations, the plumbing is usually sufficient, but always check this with the location lesser. The table below shows how many toilets are needed for the number of visitors for a specific duration of the event.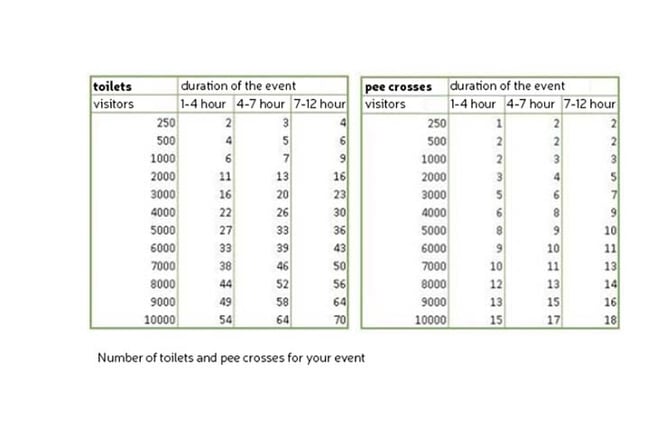 6. Shape and height of the room
The shape of a room determines the needs of your event. Long or wide halls must be provided with the correct image and sound reinforcement so that the entire audience can see and hear everything. After all, this is essential for conveying your message. The ceiling height of the room affects the height of projection screens and stages. Projection screens can strengthen the spoken word and play an important role in presentations. Make sure you use the available space.
Also check the acoustics of the location. Is there disturbing noise in the environment that can affect your event? An important factor that is usually still forgotten.
7. Rigging and AV facilities
Is there rigging in the room? If so, there are possibilities to secure projectors, speakers and lights in a safe way and in the right place. With rigging and the right AV equipment you can create a great atmosphere. In addition, the presence of rigging gives a professional look to the space.
Also check whether the location itself has WV facilities and if so, which ones. Do they meet the requirements of your event or do you have to rent them externally? when you work with Bano your event will be equipped with professional AV facilities and rigging. The following video is meant to give you a small impression of what is possible with the AV equipment of today. Try to think 'out of the box' and impress your audience.
8. Preferred suppliers
Many locations have a partnership with suppliers. If you use the location, you are also obliged to use them. Always check whether this is the case. This could impede you in the completion of your event.
9. Power supplies
Is the power supply sufficient on your event location? Remember that not only the audiovisual materials need electricity, but also factors such as catering an heating. It also always involves some risk when everything is connected to one circuit. In this case, everything will fail at the same time is there is an overload. If there is only one circuit available, you can always rent an external generator. Remember that locations such as restaurants and office spaces often have a limited power supply, limiting the use of extensive technology.
The presence of heating and/or air conditioning is not always self-evident. When you have a large indoor event that attracts many visitors, the temperature can quickly rise. The presence of air conditioning will do the visitors well.
10. Access times
Some locations have multiple events on the same day. In connection with installing and cleaning up your equipment, it is important to know how long you have access to the location.
You want your event to be caught at the right time and not let your guests wait. In addition, speaker should be able to prepare quietly, the equipment should be tested, and any other preparations made.
11. Accessibility
Is the location of your event easy to reach for your guests? Ideally, the location is easily accessible by public transport and the people who come with their own transport do not suffer too much from traffic jams when the event takes place in a big city. Make sure there is sufficient parking space and that the location is accessible for disabled people. This also gives you the signal that your event is for everyone!
12. Budget
Finally, the budget which is of course not entirely unimportant: pay attention to your available budget. Always request a quotation immediately and have it re-created as you work out the preparations. This prevents you from being confronted with surprises afterwards.
Link Determine budget
Need help?
Finding the perfect location for your event is, as you have read, quite a job. You can also choose to hand over this completely to a specialist. We can completely unburden you in this area and thus guarantee that the chosen location is perfect for your event. This way all your guests will receive your message and experience an unforgettable event. Feel free to contact us to look at the possibilities together.