Every year there are a number of trends to be seen when it comes to event organization. And this year they are very special. After an uncertain year for our industry, it is important to look ahead and determine how we will shape the future of events. Because that a lot is possible is something that is certain. We take you into the top 10 trends for this year!
Trend # 1: hybrid events will continue to exist
Because physical events were almost impossible due to all the measures surrounding the corona virus, many events were forced into an online form. Where we previously paid little attention to, for example, a live stream, online is now where it happens. We already organized hybrid events before COVID-19 emerged in the Netherlands. That is why we know better than anyone that online events are not just a "replacement for", but that you can also organize a full-fledged event online. There are also countless opportunities online:
Your reach is increased because you are no longer bound by a physical location or a maximum capacity;
People can participate in your event from their living room: that means no more travel time!
New ways of interaction are possible. Think of polls and interactive sessions.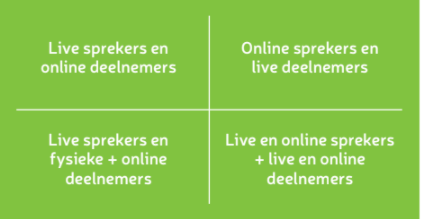 For these reasons, we are convinced that hybrid events can no longer be ignored in our lives. Do you want to know more about hybrid events?
Trend # 2: Stand out
Another trend we see is that more and more companies are organizing their own event. No longer getting lost in the crowd at an international fair, but building your own brand and brand awareness. A big advantage of this is that you have 100% control over the appearance of your event and the branding. Your audience immediately recognizes that it is about your company and does not have to search between all the stands. This is also very possible online.


We also see intermediate forms in this trend. An example of this is that of Kisuma Chemicals. We organized their own event for them in a hotel next to a large international fair. The big advantage of this was that the audience was already on location and could therefore easily participate. Instead of putting money in an expensive booth, you can use your money to decorate your own event. As a result, you are in control of the appearance, the content of your event and which stimuli your audience experiences. This trend was already started by Apple years ago.
Trend #3: online networking
One of the most important parts of a physical event is networking with other visitors. Many people think that networking during an online event is far too complicated or even impossible. But that's anything but true! Everything you can do offline, you can certainly do online. Online networking is very easy and in some cases can also be a lot more accessible than live networking. Consider, for example, a network carousel: you are linked to another participant every 5 minutes and in this way you speak to many different people. And because it is automated, you only have to wait who will get you. Super handy!
Trend 4#: focus on experience
What we will grow in comparison to last year is the brand experience during an online event. Because the experience of your participants is perhaps more important at an online event than at a physical event. Because one cannot walk around and cannot taste the atmosphere live, it is really in the details online.
Until now, we mainly saw online events in talk show settings or a live stream of the presentations. The focus was mainly on translating the content into an online format. But event organizers are always looking for innovation. In 2021, we will therefore see more ways to create the ultimate experience for online participants as well. For example in the form of audiovisual shows, more interaction options or virtual entertainment. Everything to ensure that your participants feel that they are attending a real event.
Trend # 5: complete unburdening
From organizing cool offline events to hybrid and online events: more and more companies are bringing their entire event organization to one organization. They want complete unburdening and are looking for a party that was not only very good offline, but who also managed to organize a real WOW event online. From the technical and visual aspects to the perception and experiences for your participants. Also take into account a party that is familiar with setting up the software, the cameras and the design of the decor.
Trend #6: growth of all-in-one online event platforms
In the past year, a lot has changed in the organization process of an event. For example, we had to deal with "online" and new equipment and software had to be used. Organizing an online event is different from a physical event. But which event management platform can you best use for those different types of events?
At the moment we see that many different tools are used when organizing an (online) event. Mails are sent from Mailchimp, participant registration takes place in Eventbrite, the live stream is often streamed to another platform via Vimeo and a separate voting and feedback tool is also used. All those different software are not very future proof. 2021 will therefore be the year of event technology. We will see new platforms and tools emerge to really unburden organizers. All-in-one platforms that allow you to organize an online or live event from head to tail, without the hassle of extra software or costs. A perfect example of this is Let's Get Digital. Want to know more about this platform? Klik dan hier!
Trend # 7: internal communication is becoming increasingly important
Due to massive working from home in 2020, many office spaces have been shrunk and meetings have been scrapped. We could also write the physical Christmas or New Year's drink on our stomach. Many companies struggle with employee engagement because they work remotely. That is why it is more important than ever to take internal communication to the next level. We expect to see a significant increase in the number of (online) staff meetings and internal events.
Consider, for example, a monthly virtual meetup with the entire staff, where a different department presents goals or highlights each time. Or organize a live knowledge event for your own employees with interesting speakers. In 2021 it is crucial to stimulate internal involvement. And what better way to do that than by meeting regularly? We also wrote another blog [LINK] about keeping your employees engaged!
Trend # 8: ROI has never been so easy to measure
As an event organizer, you know very well that the ROI of your event is important. But whether measuring the ROI during an offline event is so obvious? We don't think so. There are many ways to measure the ROI for an offline event, but this is often not made transparent. Due to the enormous rise of online events, we can measure ROI more easily than ever. Online has shown us how important the ROI is: we can no longer ignore it. The rise of hybrid and online events provides many ways to collect data and make your event transparent. In this way you can measure which actions your participants take and thus find out better what interests they have. Sponsors can also see exactly how many participants have clicked on their communications or viewed their session. Because all data is collected online, you can also easily display it in a report or dashboard. This makes it even more clear what the ROI of the event is.
Trend # 9: experience marketing
Many brands and organizations use experience marketing to create an unforgettable WOW experience among their target group and to build a connection with your company or brand. But we will not necessarily see many ways in which this form of brand activation was used in the past in 2021. No Lipton bar or Coca-Cola truck at your favorite festival. No Heinekenplein at that one concert. And that while personal contact is now more important than ever. That is why brands will have to find other ways to create an experience and connection with their target group. We expect to see many more small, local brand activations in 2021. Brands will respond more to relevant niche communities instead of the general public. Both online and offline.
Trend # 10: Now is the time to experiment
Something the corona crisis has certainly taught us is that nothing is certain. Nothing is self-evident or lasts forever. We have all had to switch very quickly and that in turn has created new opportunities and possibilities. But why not keep experimenting? Not being satisfied with how you are doing now, or permanently changing course, no: experiment! Try things out. What works for your company and what opportunities are there for the taking? Think of webinars, podcast series or videos. Use 2021 to not record anything. No commitments, but falling and getting up just as hard.